The perfect combination for a movie/game night at home. I'm obsessed with Nachos. I love them together with Margaritas, which are always delicious, specially if my husband prepares them for me. If you want it extra refreshing, I have an additional version for you. I always serve Nachos with my favourite dips: avocado mash and what I like to call "Vale's sauce". I hope you enjoy this recipe. Cheers!
Ingredients
For the Nachos:
1 package of Tortilla chips (150 g)
1 big tomato
100 g of grated cheese
3 slices of pickled Jalapeños (cut in small pieces)
Fresh chopped coriander/parsley
1 tsp salt
A pinch of powdered cumin, pepper and powdered garlic
For Vale's Sauce and Avocado mash:
2 tsp mayonnaise
3 tsp ketchup
1 1/2 tsp mustard ( I use three different kinds of mustard: Dijon, Old Style and English)
A few drops of Chili-Salsa
1 avocado
2 tsp lemon juice
1/2 tsp salt
For the Tequila Margarita (1 glass):
4 cl Tequila
2 cl Cointreau or Triple Sec
2 cl Lime juice / 1 Lime (Lemon is fine as well)
Ice cubes (generous amount)
1 tsp Salt + a pinch of Chili-salt
*For the refreshing version "Margarita Collins style": Sparkling water
Instructions
For the Nachos: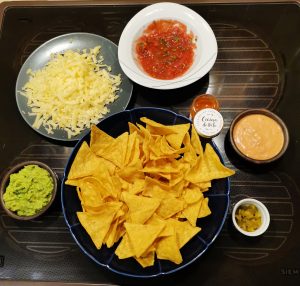 Preheat the oven at 200°C.
Wash the tomato and grate it (you can get rid off the skin left at the end). Add the salt, cumin, garlic, pepper and the chopped coriander or parsley. If you want you can add now the small pieces of jalapeños or sprinkle them afterwards over the tortillas.
Put the Tortilla chips on a bowl (that you can put on the oven). Add the grated tomato over and the grated cheese.
Bake them between 5- 10 minutes, until the cheese it's all melted.
For Vale's sauce and avocado mash:
For the avocado mash: cut the avocado in the middle, scoop out the avocado flesh. Mash it and add the salt and lemon juice.
For the sauce: mix the mayonnaise, ketchup, mustard and chili-salsa (add the amount of Chili you like, I use from 3-5 drops).
For the Tequila Margarita:
Put the ice cubes, Tequila, Cointreau or Triple Sec, and the lime juice on a cocktail shaker.
Shake for some seconds until the ice cubes are mostly melted.
On a flat plate, put salt and sparkle some chili-salt over. Wet the top of the glass you will use with some lime juice. Gently put the glass on the salt until it sticks.
Serve the drink and add a slice of lime to decorate.
To make the extra refreshing version, repeat the steps and add at the end some sparkling water (to the glass, never to the cocktail shaker).
Serve the hot Nachos together with the avocado mash and Vale's Sauce. Enjoy them next to the Tequila Margarita or its refreshing version.