If you are planning a party and you need a tasty dip to go with your snacks, or you want to spread something creamy on your bread, or if you want a side dish for your meat or vegetables, this dip will save you. It's not difficult to prepare and your guests will be very pleased.
Ingredients
2 aubergines/eggplants (650 g approx.)
2 tbsp olive oil
4 tbsp Tahini (sesame paste)
1/2 lemon (juice) approx. 40 ml
1 tsp salt
Pinch of pepper and powdered cumin
*1 tbsp sour cream or yoghurt (plant-based for vegan)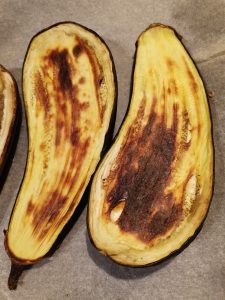 Instructions
Wash the aubergines, cut them in half, sprinkle some salt and let them rest for about 20 minutes. This will help to take the bitterness out from the aubergines.
With a paper towel, soak the "juice" that will come out from the aubergines. Preheat the oven on 200°C.
Brush with olive oil the aubergines and put some salt on them. Cook them for about 25 minutes, until they get a golden colour on the top.
Scoop out the flesh from the aubergines. Put the flesh on a blender, add the 4 tbsp of Tahini, salt, cumin, pepper, 1 tbsp olive oil and a bit of the lemon juice.
Blend everything and add more lemon juice or salt if necessary. If you want it to be extra creamy, add the sour cream or yoghurt and blend one more time.