Cooking time
1 hour approx.
A baked potato that's crunchy on the outside, but soft on the inside, filled with your favourite toppings: Yes, please!!! This recipe can be super simple but you can spice it up and take it to another level. There are lots of possibilities, but this combination is top on my list. If you have other ingredients, please feel free to change them, but if you have them all, try it like this, you won't regret it.
Ingredients
2 big potatoes
2 tbsp olive oil
1 tsp salt
200 ml sour cream
100 g smoked salmon
50 g green salad
1 tomato
1 lemon
Pinch of fresh or dried dill
10 g parmesan cheese
Dressing: 1 tsp balsamic, 1/2 tsp olive oil, pinch of salt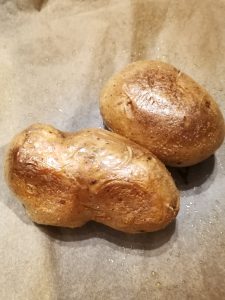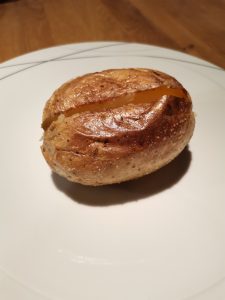 Instructions
Wash the potatoes and dry them. Preheat oven to 220°C. Use a baking paper. Brush the potatoes with olive oil and put some salt on them. Cook them on the top shelf of your oven, for 20 minutes.
Turn the potatoes, brush them again with olive oil and add some more salt. Turn the heating down to 170°C, cook for approx. 40 minutes.
Poke the potato to check if it's cooked, it should be soft inside. If they are still hard, cook for some more minutes (it could take up to an hour, depending on the size of the potatoes).
Turn them one last time, turn the heating up again to 220°C and bake for 5 minutes (this gives an extra crispy texture).
Take them out from the oven, with a knife, cut them carefully in the middle without splitting them completely.
Fill the potatoes with some sour cream, pieces of smoked salmon, squeeze some juice out of the lemon, sprinkle some salt and dill.
Wash the salad and the tomato, cut the tomato and add the dressing and some pieces of parmesan cheese. Serve it next to the potatoes.
*If you don't have sour cream, you can replace it for natural yoghurt and add to it a bit of lemon juice, salt and pepper.