Cooking time
15-20 minutes
Kaiserschmarrn is a traditional austrian dish with lot of history. Kaiser Franz Joseph I was a big fan of this fluffly pancake and I totally understand why he loved it so much. If you go to a Vienesse Coffee House, you will get a Kaiserschmarrn with raisins and some plum roaster, but my husband's recipe and the one we always eat for brunch, it's without raisins and we eat it with different marmalades or fruits. In this version we served them with caramelized apples and some lingonberry marmalade.
Ingredients
For the Kaiserschmarrn:
4 eggs, separated
300 ml milk
200 g flour
30 g cristal sugar
Pinch of salt
40 g butter
For the apples:
1 pealed apple in slices
2 tsp brown sugar
Pinch of powdered cinnamon
Extras:
1 tsp powdered (icing) sugar
1 tbsp lingonberry marmalade
Instructions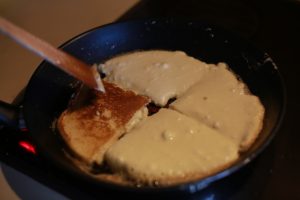 Put the egg whites and the pinch of salt in a bowl and beat them until stiff.
In a big bowl beat the egg yolks with the sugar for a few seconds. Add the milk and beat until mixed together. Add the flour and mix everything together until you get a smooth batter.
Add the beaten egg whites to the batter and gently mix with a spatula until evenly incorporated.
Melt the butter on a large non-stick frying pan on a medium heat. Add the batter covering the pan. The pancake has to be around 1 cm high. Cook for around 1- 2 minutes then split the pancake (cutting it with a wood spatula) in 4 pieces and start turning each piece. Start cutting in smaller pieces and let them cook until all pieces have a nice golden color. 
*Heat the oven on 100°C and keep the Kaiserschmarrn inside until you finish cooking all the batter.
For the apples, peal and slice the apple. In a non-stick frying pan, cook the apples in a low heat with the sugar and cinnamon. Keep turning them, until they get gold.
Serve the Kaiserschmarrn warm, dust some powdered (icing) sugar and eat together with the caramelized apples and the lingonberry marmalade.
*The first pancake will always cook slower than the rest. When you finish cooking the first one, you should turn down a bit the heat before you put your next pancake. As your pan will be already hot, you should turn your second pancake faster than the first one.