Cooking time
35-40 minutes
I don't eat too much meat, but when I do, I always go for this cut as it's one of my favourite ones to eat. My dad always prepared it for me on the grill with some salt and nothing else: Perfection. As I now live on a small flat, I don't have a grill but I have my faithful friend: my non-stick grill pan. I created this puree which I thought it would bring a nice texture to the dish together with the roasted taste of the pistachios. The red wine sauce has a very soft combination of spiciness and sweetness that ties it all together. It sounds and looks complicated, but it's not difficult to prepare.
Ingredients
For the zucchini pistachio puree:

2 medium zucchinis (300-350 g approx.)
1-2 tbsp pistachios (unsalted)
1 tbsp butter
Salt
For the red wine sauce:
1 glass of red wine (125 ml)
3 tsp brown sugar
2 drops of Worcestershire Sauce
1/2 tsp salt
Pinch of pepper
Pinch of nutmeg
Pinch of powdered cinnamon
For the meat:
300 g approx. of Rib-eye Steak (150 g per person approx.)
1 tbsp olive oil (or sunflower oil)
Salt (ideally in flakes)
Instructions
For the zucchini pistachio puree:
Wash and cut the zucchinis in 4-5 pieces each.
Boil 1 litre of water approx. Add some salt. When it starts boiling add the cut zucchinis and cook for approx. 15 minutes or until they are soft on a medium temperature.
Toast the pistachios in a non-stick pan (without oil!!) for 5 minutes in a low temperature. Pay attention, they shouldn't burn, they should just change their colour slightly.
Once they are toasted, crush and grind the pistachios in a mortar & pestle. The best is to leave them half powdered and the other half in very small pieces.
Strain the water out of the zucchinis. Press them softely with a fork to take out as much water as possible out of them.
Blend the zucchinis, together with the butter and a small amount of the pistachios until you get a very smooth puree. You can always add more pistachios, but if you put too much, you won't taste the zucchinis anymore. That's why it's always important to add in small amounts and try every time you add the ingredients.
Add more salt only if necessary.
For red wine sauce:
Add all the ingredients to a non-stick pan.
Mix them well and let it cook on a medium temperature until it boils (it can take 2-5 minutes). Now you have to take out part of the alcohol from the wine. To do this, you need to light a match and very carefully bring the match close to the pan. It will immediately catch fire. Be careful!!! The flames can be quite big. Put the temperature down and wait until the flames disappear. Now you can stir and let it cook for approx. 10-15 minutes. Try the sauce and add more salt if necessary.
To test if your sauce it's ready, grab a spoon and put it on the pan, take it out and with a finger, make a line across the spoon. If the sauce doesn't move inside the line, it means it's ready.
For the meat: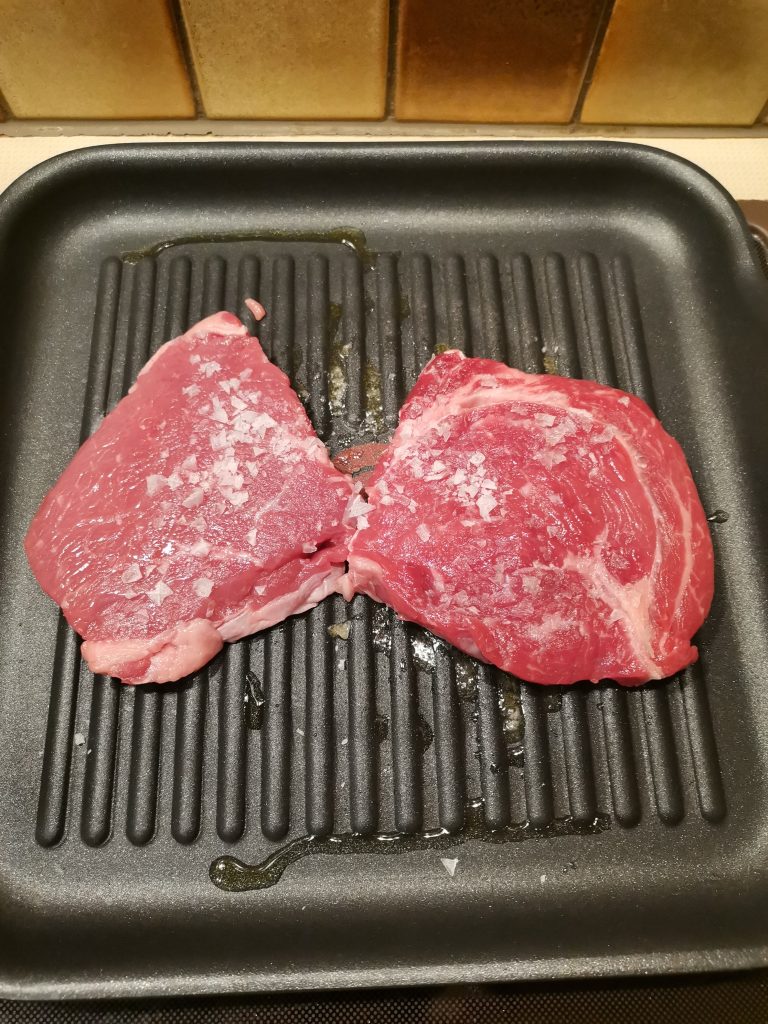 Once your zucchini puree is ready and the sauce is almost done, you can prepare the meat.
You should let the meat "breathe" for a few minutes before cooking. Add some salt (ideally in flakes)
Heat your pan on medium-high temperature. I use a non-stick grill pan. Add a bit of oil.
Once your pan is hot, add the meat and add more salt if you wish. Cook for approx. 2-3 minutes and then turn the meat.
If your piece of meat is thick, it will take longer to cook. But a thinner piece it shouldn't need longer than 5-7 minutes to cook. It always depends on how cooked you like your meat. I eat mine on a medium rare (5-6 minutes) but if you prefer it more cooked, then cook it from 8-10 minutes.
Once your meat is ready, put it on a cutting board and let it rest for 1-2 minutes. Now you can cut it in smaller pieces if you wish or serve the bigger piece.
Serve your meat next to the zucchini pistachios puree, sprinkle some more pistachios over the puree and put the sauce over the meat. Enjoy this dish with a nice red wine.