Cooking time
40-45 minutes
This dish has a delicious combination of flavours. Salmon is one of my favourite things to eat and if you add the smoothness of the puree and the intense flavours of the sauce and pesto, you get a perfect dish to cook for your loved ones.
Ingredients
For the sweet potato puree:
1 medium potato per person ( 500 g approx. for 2 portions)
1 tbsp butter
2 tbsp hot milk (30 ml)
Salt
Pinch of nutmeg
For the salmon:
1 piece of salmon fillet per person (100-150 g each)
1 tbsp sesame oil
1 tbsp lemon juice
Salt (ideally in flakes)
For the pesto:
1 pak choi (only the leaves) 30 g approx.
30 g approx. spinach leaves
1/2 tsp salt
1/2 tsp wasabi paste (you can add more if you want it more spicy)
For the homemade Teriyaki sauce:
3 tbsp Soy sauce
4 tbsp water
1/2 tbsp honey
1/2 tsp brown sugar
Pinch of powdered ginger
*you can add also 1/2 tsp Mirin (rice wine)
*you can also add 1/2 tsp corn starch if you want it to thicken more
Instructions
For the sweet potato puree: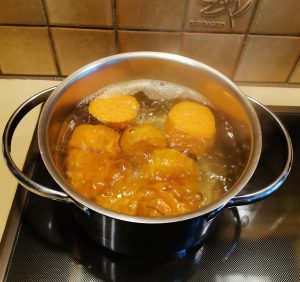 Peel, wash the potatoes. Boil approx. 1 litre of water. Add salt to the water, cut the potatoes in 3-4 pieces, to help them to cook faster. Cook them for 15-20 minutes. They should be soft inside. Strain them.
Warm up some milk (30 ml approx.)
Mash the potatoes with a fork or spoon. Add 1 tbsp of butter, a pinch of nutmeg and approx. 2 tbsp hot milk.
Mix all the ingredients with a hand mixer until you get a smooth puree. Add more salt or milk only if necessary.
For the wasabi pesto:
Wash the leaves of the pak choi and spinach.
Blend them with a hand blender together with the wasabi paste and salt until you get a smooth pesto.
Cook the pesto for 3-5 minutes in a non-stick pan on a low temperature.
For the homemade Teriyaki Sauce: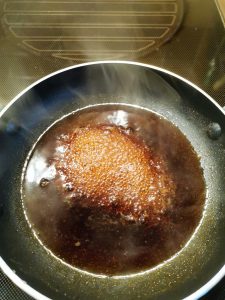 Add all the ingredients to a non-stick pan.
Mix them well and let it cook on a low temperature for 5-7 minutes until it thickens. *If you decide to add corn starch, you don't need to cook it for that long.
For the salmon:
Heat up a non-stick pan with 1 tbsp of sesame oil.
Cook the salmon on the side of the skin (if your fish doesn't have a skin, cook it on the side where the skin was).
Add some salt (ideally in flakes) and 1 tbsp of lemon juice.
Cook the salmon for approx. 5 minutes or until 2/3 of the fish changed the colour, then turn the fillet and cook it for around 2-5 extra minutes (it will vary on the thickness of your salmon or how cooked you prefer to have it).
Serve your salmon, next to the sweet potato puree, add some wasabi pesto next to it and splash some Teriyaki sauce. Enjoy it next to a cold glass of white wine.